(Gift yourself a Brighter Smile)
Dr. Ameera Lakha has completed her BDS degree from the prestigious M.A Rangoonwala college, Pune. Her dental philosophy is centered around quality care that relies on patient education, open communication, and empathy.
As an adept dental practitioner, Dr. Ameera firmly believes in providing the best service to her clients while using state of the art technology, materials and equipment. She has been dubbed as the 'Painless Dentist', owing to 6 years of dedicated work experience with clinicians across the globe. 
Being fluent in English, Hindi and Gujarati, Dr. Ameera prides herself on being approachable and friendly while being able to provide dental care in an environment that is both comfortable and reassuringly pleasant in the language of your choice. She is an astute clinician who is always aiming for perfection in her work. Her expertise lies in cosmetic dentistry, pain free root canal treatments and teeth whitening.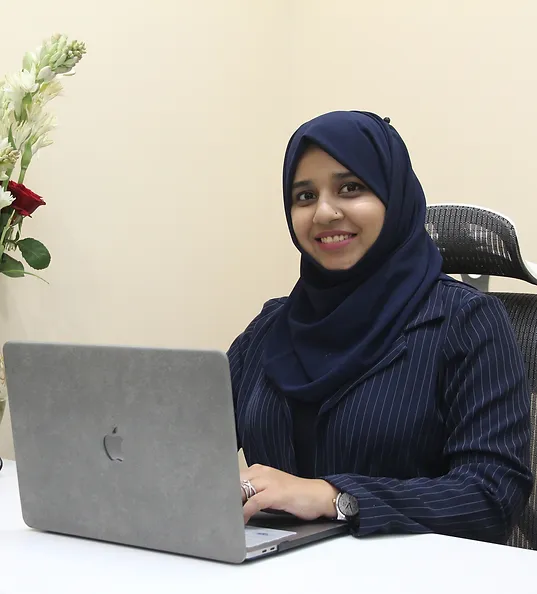 Dr. Ameera Lakha's expertise lies in cosmetic dentistry, pain free root canal treatments and teeth whitening.
Aamir Hamidani
Presence of yellow teeth and bad breath was a big worry for me. Had visited quite a few clinics in the past but was always unhappy with the temporary solutions given by the doctors. Finally I visited dr tabrez and dr ameera .Doctor checked me in detail and treated my gums for a couple of sittings. Got my teeth bleached too. The results are really satisfying and worth the cost. Dr tabrez has in depth knowledge of every condition. Highly recommend to anyone who has dental problems.
Shivam Shetty
Had a fabulous pain free experience at Swiss dental aesthetics.I had visited the clinic for teeth whitening and dental implants. Teeth whitening was performed by dr Ameera. I have undergone this procedure before with different dentists. However I must say that this time the experience was completely different. My teeth look much whiter with no sensitivity. The experience with dental implants was excellent. the treatment was painless and had no complications. Dr Tabrez lakha explained the procedure before the treatment. There was complete transparency regarding the cost and procedure from the doctors side which is rare these days. I recommend everyone who needs dental treatment to visit Swissdentalaesthetics. Their front desk is really polite and accommodating. Overall it's been a comforting journey. Definitely it's the best dental clinic in Bandra.
Do you need an expert advice for your condition?
Teeth Whitening – The Permanent Solution for your missing teeth
Simply reserve a time slot, walk in at the appointed time and get prioritized treatments at no extra cost.